Three small treasure chests in the LFW
When art and science are close to each other
Quite forgotten, a teaching collection of special value was stored in a cupboard in the LFW for many years. Only by chance did the 130 hand-coloured glass slides by artist Josef Hanel reappear. They show botanical motifs with incredibly realistic colours and impressive detail.
Sabina Keller, a staff member and lecturer in Grassland Sciences, was busy digitising a teaching collection when she discovered three boxes of strange, but beautiful, small glass paintings in a cupboard on the C floor of the LFW. A few years later, she read an article about a collection of hand-coloured glass slides by artist Josef Hanel (1865–1940) that had been discovered in the basement of the Botanical Museum at the University of Zurich. She remembered the find, and indeed: in the cupboard, she found – like little treasure chests – three wooden boxes filled with 130 hand-painted glass slides with the abbreviation I. H., as Josef Hanel used to label his paintings.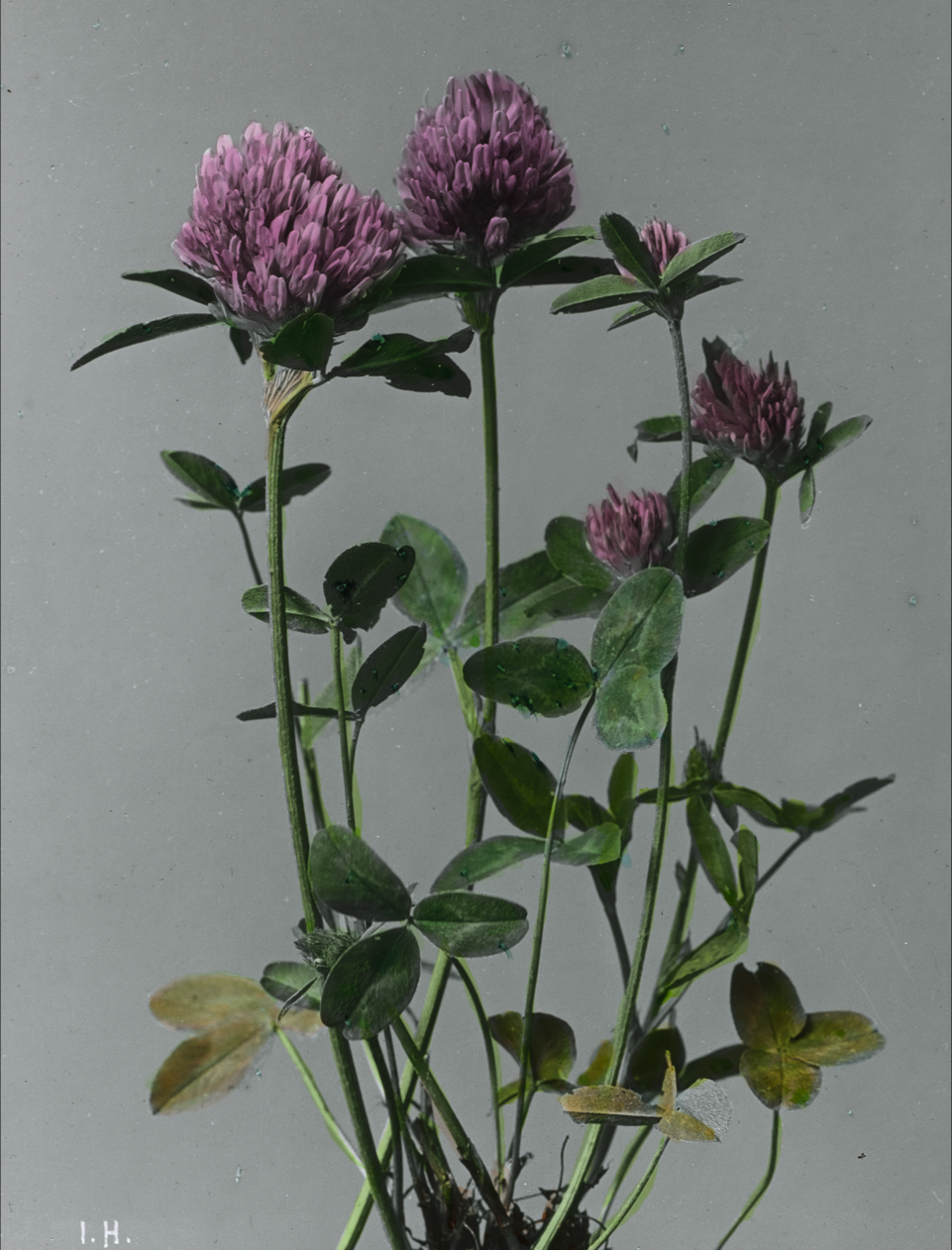 Great perfection in a small format
Each slide is unique and the value of the small works of art is correspondingly high. The production of these colour images was a laborious process at the time. In a first step, a black-and-white photograph was taken, then a print on glass was made, which Josef Hanel coloured by hand in a final step.
Colouring the glass plates, which are only eight to ten square centimetres in size, required a steady hand. In order to be able to apply the highly diluted albumen glaze colours precisely, he used a light panel and a strong magnifying glass. Every brushstroke had to be perfect at the first go, because once applied, the colour was immediately absorbed by the gelatin emulsion and could no longer be corrected. All the more impressive is how realistic the colouring seems and how perfect every detail is.
Hanel made the teaching sharper
Originally a decorative painter, Hanel was self-taught in the art of photography and specialised in the production of coloured slides for teaching purposes. These paintings were produced between 1915 and 1940 and show different ecosystems, crops in all stages of growth and plants affected by diseases.
Affordable colour film had been around since the end of the nineteenth century. Hanel's slides, however, were better suited for projection on a big screen because of their depth of field, and their attention to detail gave them an additional scientific value.
It is unclear when the slides were acquired and by whom. But certainly they were stored for many years in said cupboard of the LFW. In the meantime, the 130 valuable glass plates have all been digitised and are back at the LFW with Nina Buchmann. They will be handed over to the ETH archive, but remain accessible as scans. It is planned to publish a book about this and another collection of glass slides.