Drones, Jenga and soap bubbles
Agricultural sciences at your fingertips
At Scientifica on September 4 and 5, various research groups from ETH and the University of Zurich presented their latest research under the slogan "synthetic naturally". At a prominent location, in the middle of the atrium of the ETH main building, the Institute of Agricultural Sciences presented their research for the agriculture of the future.
Via the digital platform created for the 150th anniversary, visitors entered the universe of agricultural sciences. Interested guests found information about the activities of the various groups and learned what links toilets, astronauts, satellites to agricultural science. Technology lovers, meanwhile, followed a robot piggy on its winding paths through the agro-verse.
From drone course to plant breeding
From the digital platform, children and the young at heart were soon drawn to the model of the Field Phenotyping Platform (FIP) of Achim Walter's Crop Sciences group. Here, a short drone course had to be completed. The young pilots' flight attempts rarely ended as elegant descents on the marked landing pads, but rather as crashes or unintentional excursions into the expanses of the atrium. Nevertheless, the game aroused not only the ambition of the participants but also their curiosity.
The visitors learned that drones equipped with cameras and sensors are used to document the development of crops and that the gained knowledge can support plant breeding (read more). Questions about experimental designs, drones, sensors and R-codes were answered by the competent representatives of the Crop Science group.
Feed for the climate
At the stand of the Animal Nutrition group, Melissa Terranova, head of research at AgroVet-Strickhof, presented an excerpt of her work. A wooden cow showed in a playful way how different feeds influence the metabolism of a cow. When the model-cow was fed, it burped and farted out soap bubbles - much to the delight of the children. However, the amounts of soap bubbles represented the emissions of methane produced by a cow due to the feed.
A hazel leaf-infused feed ration could reduce greenhouse gas emissions while keeping welfare and milk production high. Flaxseed also shows similar effects. The well-established hay, on the other hand, makes a cow happy but leads to high greenhouse gas emissions and moderate milk production. Guests thus learned vividly how research could reduce farm animals' contribution to climate change.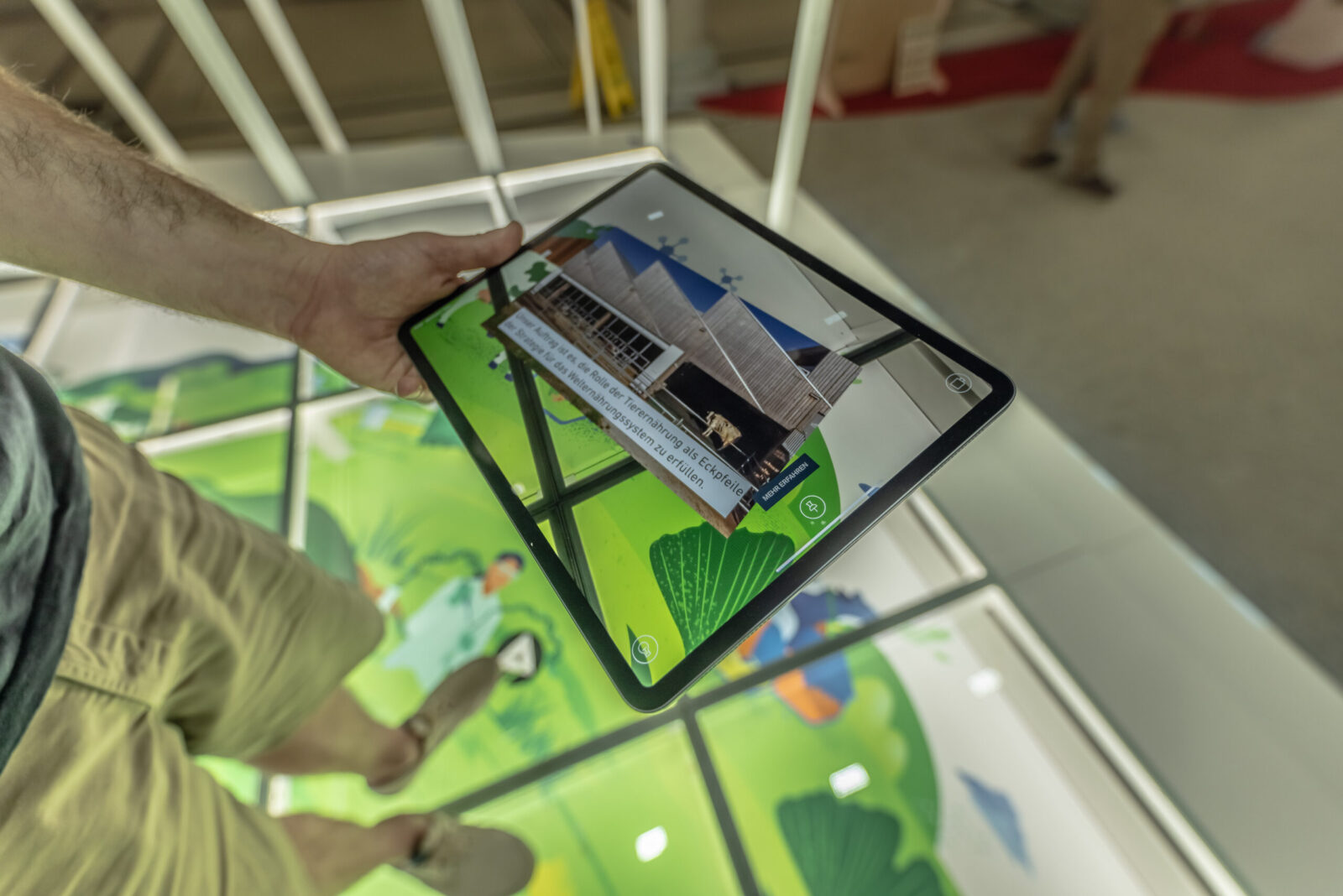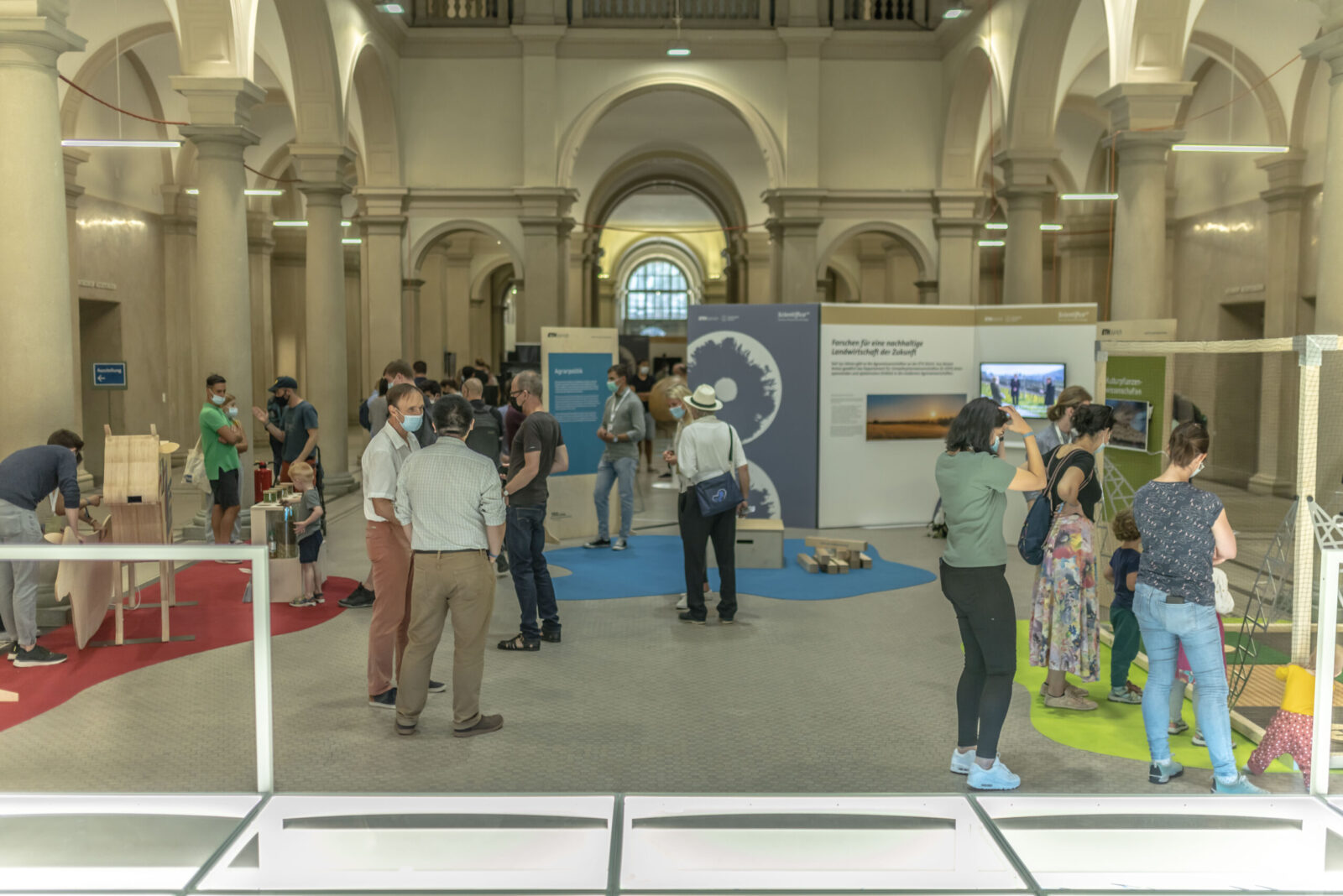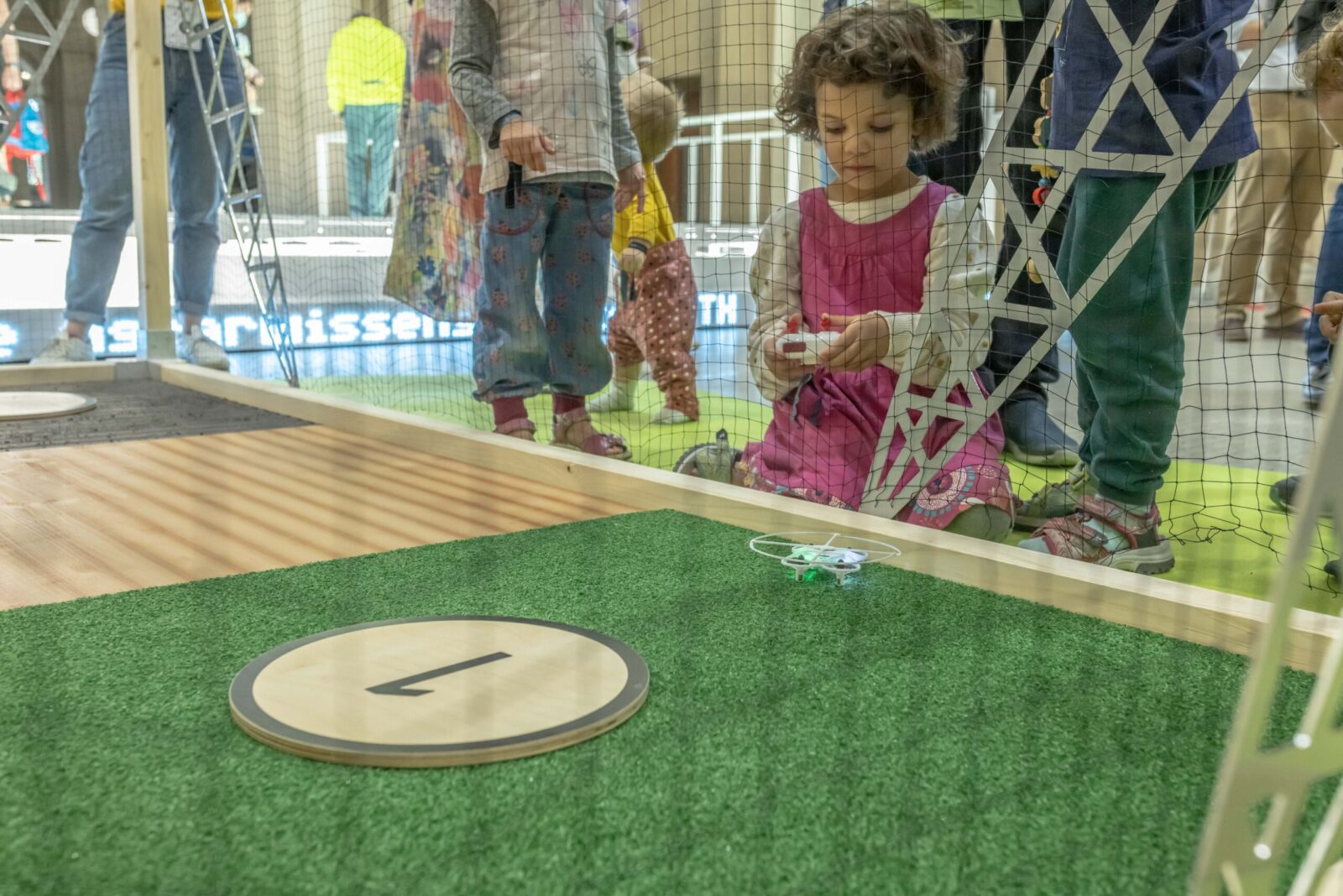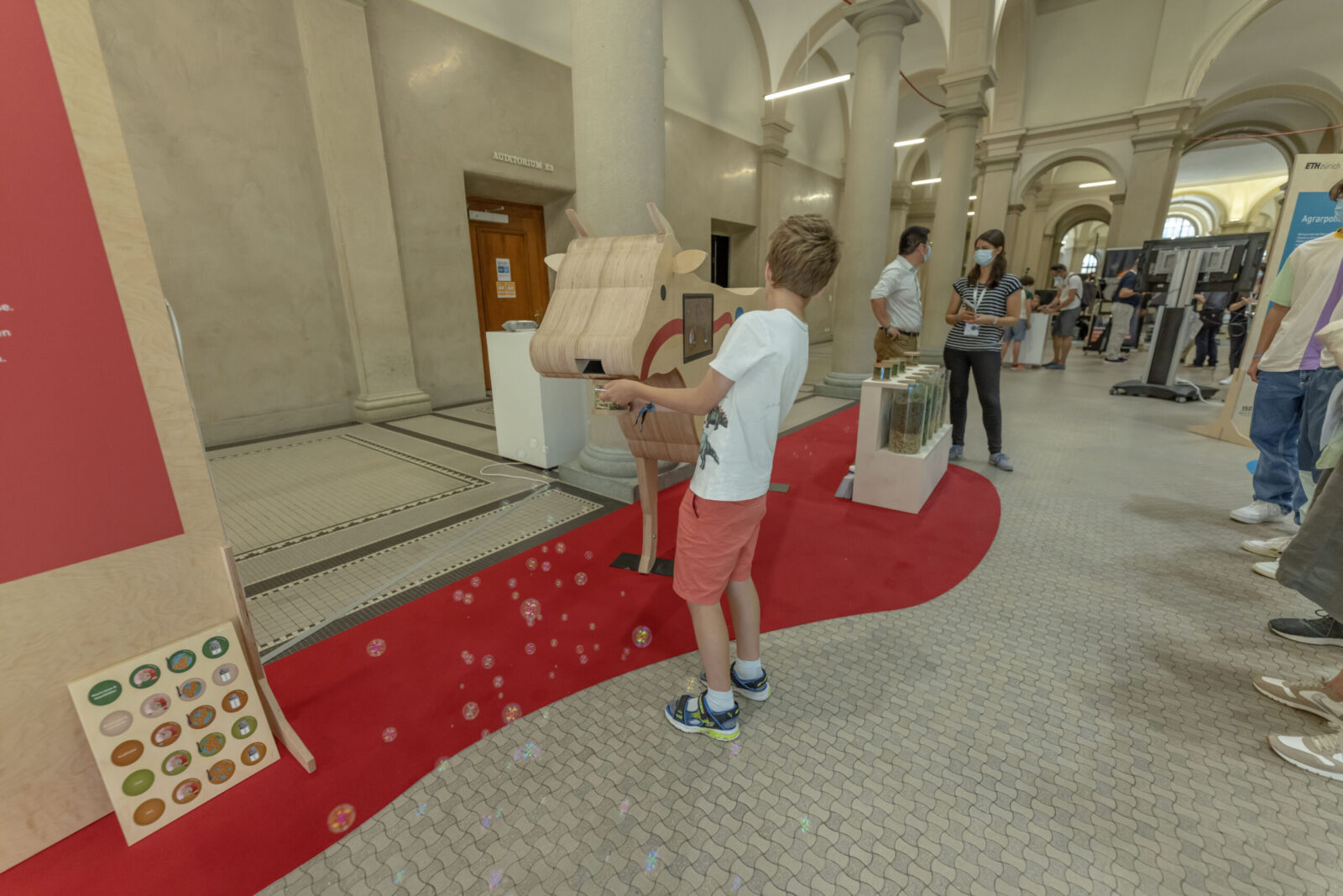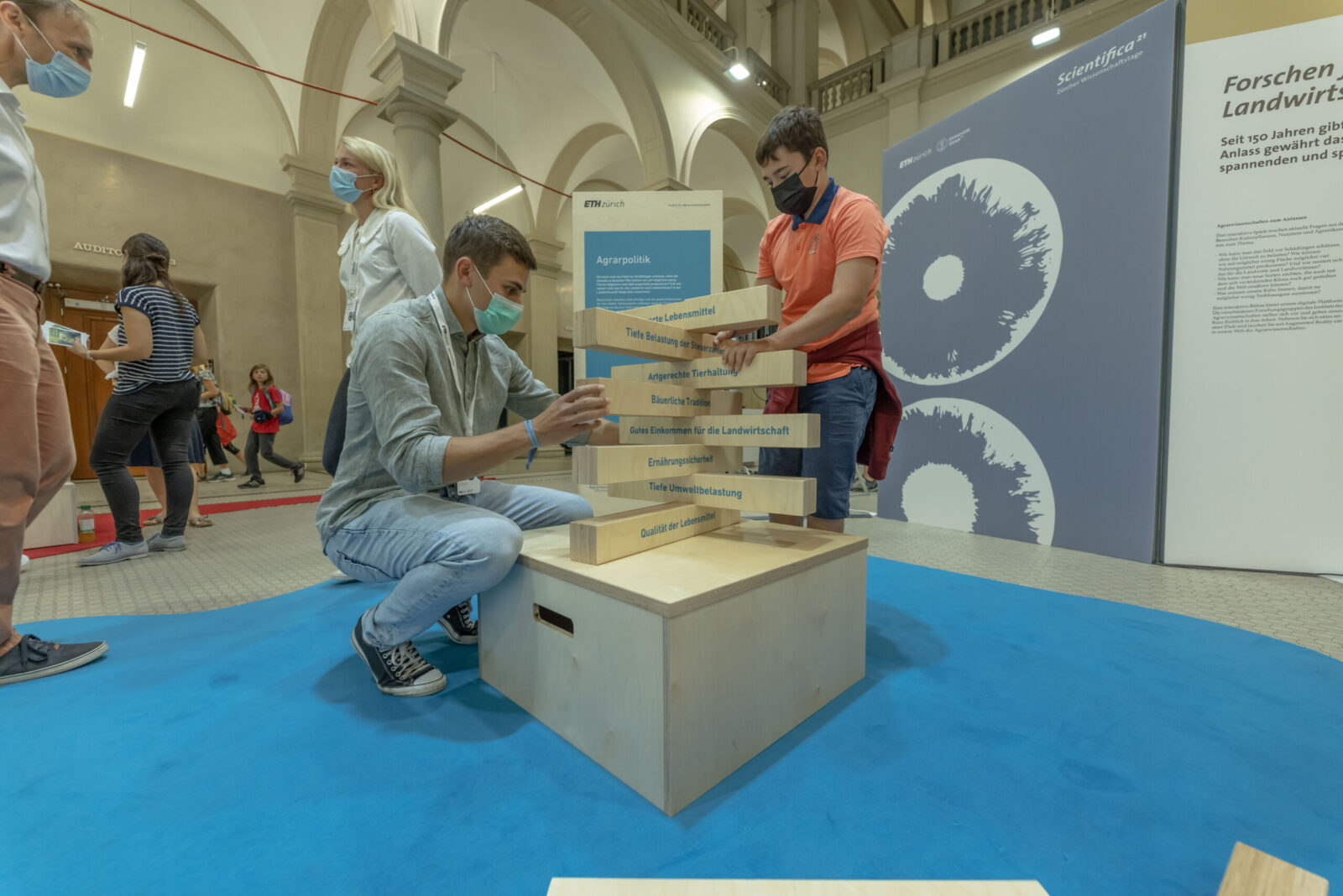 The Jenga of agricultural policy
Jenga game blocks with terms like "farming tradition", "low environmental impact" or "animal welfare" had to be stacked on top of each other. The challenge to build a stable tower symbolises that of agricultural policy. It has the claim to satisfy the needs and concerns of all stakeholders involved in such a way that a stable, functioning system is created. This task was meant to be thought-provoking, and not surprisingly, led to many inspiring discussions. Students of agricultural sciences were eager to share their knowledge and answer the guest's challenging questions.