The history of the Division VII and its institutes
The last 50 years
The history of the institute over the last 50 years has been marked above all by the detachment of Food Sciences from Agricultural Sciences. It was completed in 2012 with the creation of two different departments. However, close cooperation between the two related disciplines continues to be emphasised.
Food Sciences, previously part of the Institute of Agricultural Sciences, were given their own institute in 1971. However, they remained part of Division VII. The Institute of Animal Production, which already existed before 1980, was renamed the Institute of Animal Science (INW) in 1986 and combined the institutes for Animal Breeding, Physiology and Hygiene, Animal Nutrition and the Laboratory of Biometry and Population Genetics. Now the focus was no longer on the animal as a product of agriculture, but on an applied biology that focused on the animal and the human being.
The Institute of Plant Sciences was founded in 1986. It combined the former institutes for Crop Science, Plant Health and General Botany. The Institute of Agricultural Economics was formed in 1991 from the Institute of Farm Management and the professorship in Agricultural Economics.
Division VII disappears almost unnoticed after 128 years
In 1989, the Department of Agricultural and Food Sciences (D-AGRL) was founded. It covered the area of research and consisted of the four institutes of Animal Science, Agricultural Economics, Plant Sciences and Food Sciences. Division VII or the Division of Agriculture continued to exist and was responsible for teaching. In 1994, the Division of Agriculture was finally renamed the Division of Agricultural and Food Sciences, which meant that Food Sciences were also represented in the department name for the first time in over 100 years.
In 1999, the division was finally abolished and teaching also became part of the D-AGRL. The end of the 128-year-old department did not make big waves. Gerald Stranzinger, Professor of Breeding Biology, describes the transition like this: "The abolition of the divisional structure and its transfer to the departmental structure according to the new ETH organisation ordinance for Agricultural and Food Sciences was a step that took place without any significant difficulties."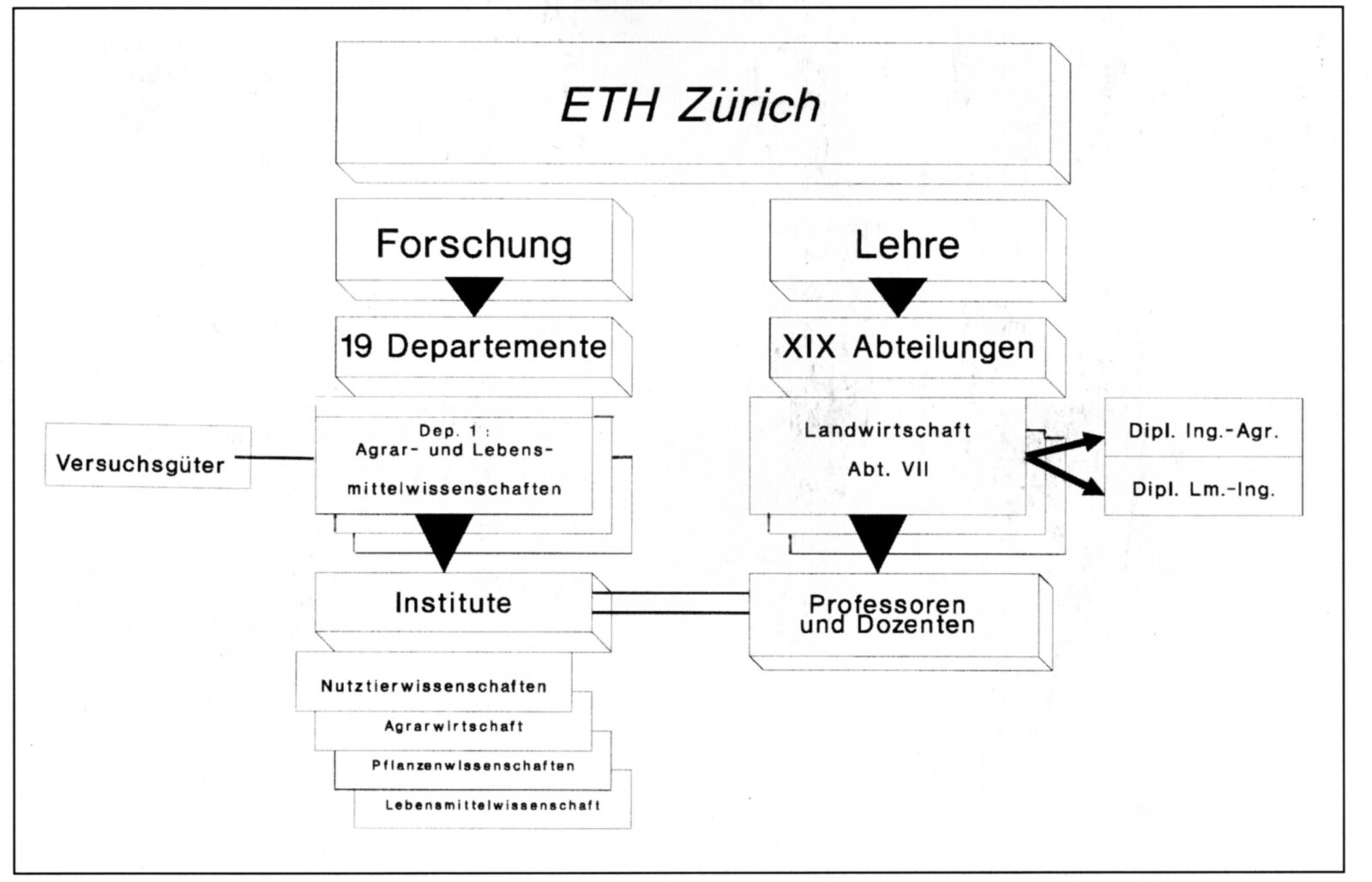 10 years of the Institute of Agricultural Sciences (IAS)
In 2010, all Agricultural Sciences professorships of the D-AGRL were united in the Institute of Plant, Animal and Agroecosystem Sciences. The Institute of Agricultural Sciences (IAS) received its current name only in 2011. So it is celebrating its tenth anniversary this year. The members of the IAS, together with the associated professorships of Agricultural Economics and Policy and Plant Pathology, are responsible for the Bachelor's and Master's degree programmes in Agricultural Sciences at ETH.